Post by delpart on Nov 23, 2011 1:50:52 GMT
I'm an over analytical person trying his hand with PDN to move from using it as a tool to using it to make artwork. I'll post my findings here in LIFO - Last In, First Out format. Meaning the things at the top will be the newest and the things at the bottom as you scroll will be older.
Thanks for visiting my gallery. Please feel free to offer suggestions and feedback if you wish. I'm mainly trying to understand the tools and try to grapple what I can and cannot do. I'm accidentally creating things as I do this it seems. Signatures and the like are the few planned items. I'm generally not happy with them. They dont quite reflect what I want ... yet.
*****
*****
*****
*****
*****
Febuary 21st, 2012 - Well, I've dragged my feet and posted tons all over the place except for here in my own gallery. Just seems like I'm creating samples and nothing, ... finished ... like my Emergence. I could be wrong but I consider most of these to be doodles in comparison. Lots of 3D ish stuff and droste/sqqirkle influences in my recent meanderings ...
First thing is to show what made Emergence ... Brush testing and some heavy layer blending:
Semi-finished works:
Other doodles:
*****
January 8th, 2012 ... another happy accident while working on the smoke portrait approaches. Got a little sidetracked and then created something that just creeps me out for some reason.
*****
January 4th, 2012 ... rang in the new year with explosives, etc. Still not sure on so many pieces after failing to create something as a present.
But, I spent a long time on the 3rd (which is still that day to me now ... darn midnight) and updated my avatar.
So I've been a little obsessed with Radial Blur Deluxe since making a near fractal with it. Still pushing and playing with it probably too much.
These are all based off that darn thing:
OMG glad I save a copy as I go along ... ctrl-v is something not to be trifled with.
One fun thing is creating something familiar. I wound up with a fabric and the start of a sunrise pic:
Some random things. Metal effects and a stylized moon using squirkle warp, emboss and some transforms:
Some chaos derived from looking into the cracks tut:
And a water splash I created in my attempts at creating bubble effects in water. This wound up being water on top ... Still nifty though: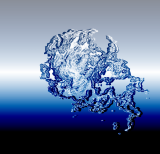 And that's all I'm sharing since my 17th Dec, 2011 update since the rest has been less than fruitful.
*****
The dreaded inversion 4 leaf flower of course. However, I think I did something nifty with it. Sort of 3D sort of not. I just really like it. Made quickly and without much thinking so I really like it on a personal level:
*****
WIPs:
*****
My first planetoid attempt with PDN. Tried to use it with cartoon moonrise but its just wrong even darkened, recolored etc. Too real I guess. Also got the cloud blending/shadows wrong. I stared at it too long so I missed it the first couple times around. Learning those is harder when you refuse to draw on gradients. Now I see why you do that.
*****
Here I've tried to create actual "somethings" ... mixed results. Usually it was I saw something and wanted to expand on the glimmer.
Still not sure on this one. Cant get the stars to work right etc. This of course is how you learn what not to do of course and to plan some things out or start over with various aspects as needed. I keep going at it like you would perhaps with actual oil on canvas at times. Keep painting over it until it works again.

Then I saw a candy mountain and tried to work with it to match my cartoon mindset.
And this was just simple. The jaggies were part of what I found. Couldn't figure out how to get rid of them.
*****
Sort of created a fractal from the tutorial and splinter blur tests. Little S3D helped create a nice spread here:
*****
Recently went through a tutorial that's made me waste a lot of time messing with splinter blur. Created some neat stuff with it though including some nice faceted glassy effects.
Couple of named pieces from these experiments as well:
*****
Couple of oddballs. A glass effect using color aberration and basic relief. A face found in the mix of smashing some gradients into a hole, etc.
*****
It's silly but it makes me smile. Maybe you will too. Trying to make my alien console thing I made a smiley face nebula in the iterations.
*****
Lots of fun with polar inversion and learning gradients. I'm still staring at this one. I call it simply My Cloud. It blends funny with stuff and I'm still trying some things but the base is my favorite so far:
One new op-art piece that can create the illusion of running water. I have to work some on coloring it still but right now I can only get it to work in grey. Yes, it can hurt your eyes. Just stare at it for a moment and move on. The other is a simple moving ring attempt.
*****
Random but neat effects overall. Saved and shared here. The first is actually used in several other things as a base with different colors used. Saved in green as it looks like some sort of sci-fi machine:
*****
Variations of a cubist thing I like the feel of. One desktop attempt that still doesn't work in the mix but I will revisit this all later:
*****
Some basic creations:
*****
The Pinwheel Phase. I'm pretty sure everyone goes through it. Some items are pure pinwheel, others just in that same thread. Lots of em. A couple of neat items and a link the the entire gallery:
(PB Pinwheel Gallery)
*****
Lots and lots in 4 weeks since the stuff below here. Everything above created since Nov 22nd, 2011.
*****
Slowly adding plug-ins because it seemed like I needed Ed Harvey's stuff. Working solely with his plug-in set warped a gradient into this progression:
*****
In trying to wrap me head around gradients these came out of the mix. Still working with the orb but by itself is rather nifty:
*****
Slowly working through some things I made op art. Its an optical illusion that can mess with your depth perception some. Original stumble and colorful variant with less pull:
*****
Found PDN Fans and decided to take a plunge. Worked on a new signature and avatar combo. Still not sure what I was going for. Wound up with something similar yet new. Large avatar to show the depth its missing, the original signature, and a modified signature to be less intrusive:
*****
Test of a pre-made fire plug-in to compare what I was doing to create it manually. Kept this fire ring for some reason that escapes me now:
*****
More experiments with gradients. Wound up with a photographers backdrop that then turned into some potential planetoid textures:
*****
Accidentally created a chalk like output so I randomly made something to outline with it. Wound up being something I kept:
*****
Experiments with flame and gradient lighting and subtractions. Wound up with with two variations on a theme. Desktops of sorts:
*****
Clouds still has been a focus since it can be so random. Also in learning layers and color mapping I bumped into this organic mix. Its smoke/water/ and something else. I'm still trying to adapt it to make rising bubbles like WB's tutorial does. Just larger. Though in my experimentation it evolved into what looked like glass remnants from a glass workers shop to me. I have a screen shot of the steps but I've yet to be able to re-create it. Organic and then the chipped/melted glass pieces:
*****
Vortex tutorial got me thinking about lighting. I played with some gradients and wound up with something intriguing. Again, no planning, so it got cut and wound up being art like.
*****
True accident with learning how to make something "glow" and zoom/rotate I wound up accidentally making something I really like as a piece of art. 14 layers in both. The first is the actual form on white. The second was a mistake with it open and I wound up with a gradient on it and noticed how it changed. The gradient is off but I've kept it like this as every time I correct it I'm stuck with my original impression. Two forms of the same item. The multilayer zoom and motion blurring experiment turned art like and the piece I call Chevrons.
*****
Wound up with signatures based on fire effect blending for main forum. Didn't realize I needed to consider framing with how some of the effects work when I set the canvas size to work with. I also was thinking to work large and reduce to make up for a lack of understanding on how to smooth aspects out. I've learned that reductions often lose the detail you may want so you have to use caution in doing this. First two original size showing progression. Signature block reduced and full size.
*****
Then I tried to create a signature so I could maybe ask some questions on the main forum (before I got cold feet about the general feel of that forum). Halloween had just passed so I think it is how I wound up with this. Though I was just trying for a hand drawn name in stone. Also before I found out there was some neat tuts on making smoke/fire like effects. Sort of made that by mistake though I'm sure my reading influenced my experimenting:
*****
Then a random approach to seeing how to turn perlin noise into flames. This has been overused since in my learning, but I keep trying to perfect making flame without drawing it through chance and patterning. This texture I've used in various ways and things like it:
*****
A couple of plug-in grabs later to try to do parts of some tutorials and I created another random impression that I kept:
*****
First ever creation using just the default PDN with no plug-ins installed. Desktop size seemed like a good framed canvas at the time to work with: